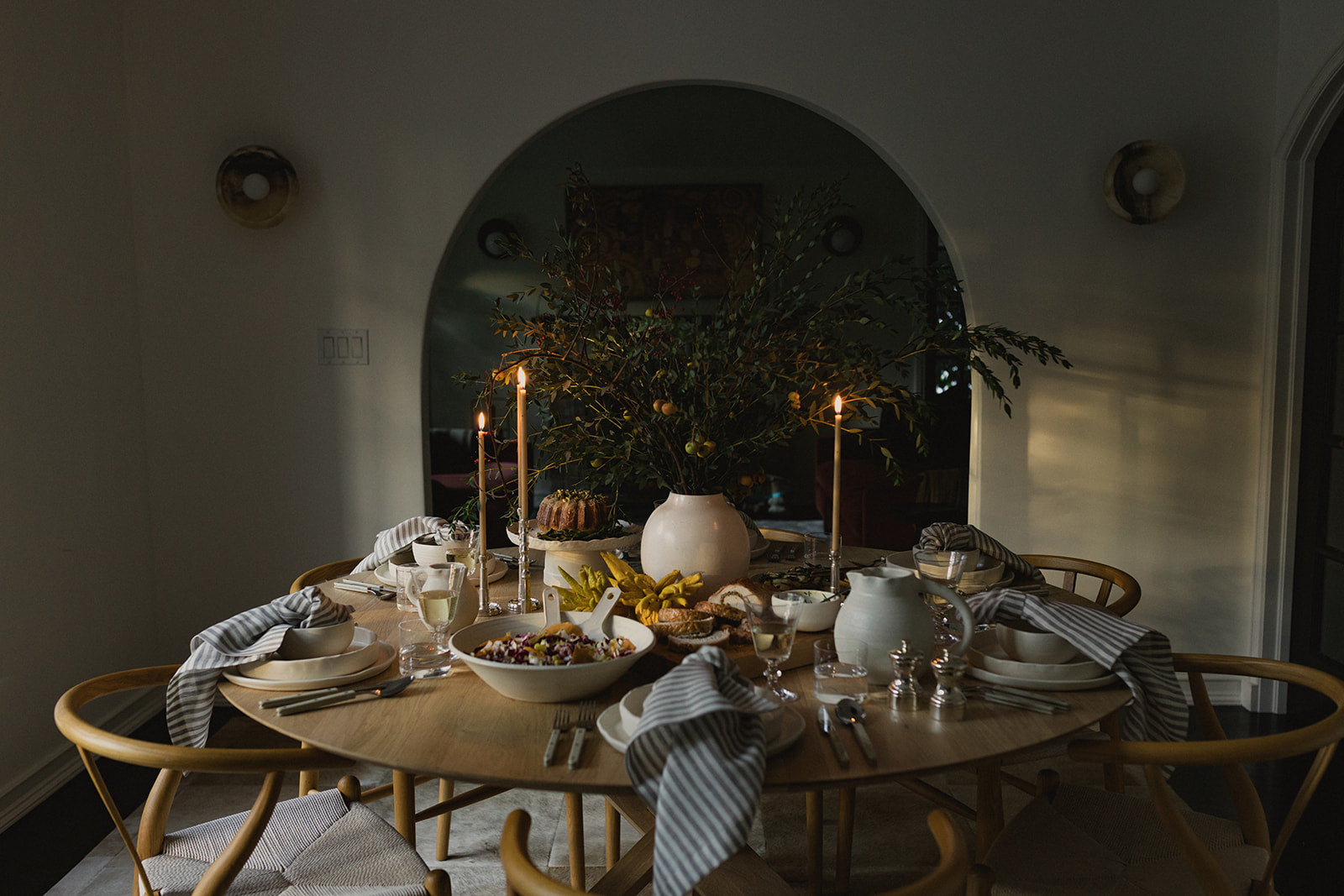 Holiday Entertaining 101
LA VITA
Holiday Entertaining 101

When I'm producing events for clients like Veuve Clicquot, Nike, Evite or Goop, it's a given that I will spend most of the day on my feet and behind the scenes in the kitchen. As hard as it is for a passionate, detail-obsessed person like me to take off that apron, when you are entertaining at home, what's the point of having friends over if you can't sit down and enjoy their company? My strategy is to tackle everything in advance so that the evening unfolds without a hitch and I get to have fun, too.

A holiday party is probably not the time to experiment with a new menu or a complicated dish you've never made before. Trust me: I learned that lesson the hard way on the night I attempted to make Coq au Vin for the first time. I didn't have all the ingredients and I was behind schedule so I thought I would just wing it. Needless to say it was completely inedible. When my guests arrived, we ordered pizzas, opened some nice wine, and ended up laughing the whole night.

If you do plan to try something new, or even a dish that is so familiar you could cook it in your sleep, be sure to review the recipe a few days ahead; check that you have all the ingredients on hand (basic, right?); and don't leave to the last minute anything you can knock off your list the night before or the morning of. Here I include peeling, chopping, making dressings, marinading, even pre-cooking meat. It will cut your stress level by a million percent and tee you up to kick back with your friends.
"I am a huge fan of lazy-fancy appetizers like potato chips and dip caviar, seasonal crostini or a vegetable tart cut into bite-sized square"
I apply the same strategy to my home bar. I pre-batch the cocktails and set out glassware, garnishes and ice, so guests can serve themselves. Classic cocktails like Martinis, Manhattans and Negronis all can be premixed, stored, chilled and served in glass flip-top bottles (they also last in the fridge/freezer until your next get together). If you are going for Margaritas or drinks made with fresh juice, I recommend keeping the spirits separate. You might even set up the bar with a couple of different mixes and suggested spirits like tequila or mezcal invite your guest to "choose their own adventure"
My one hard-fast entertaining rule: no cocktail should be served without a snack of some kind. I am a huge fan of lazy-fancy appetizers like potato chips and dip caviar, seasonal crostini or a vegetable tart cut into bite-sized squares — anything that can be made the morning of and dressed right before you put it out on the table. (Yes there is a theme here.)
When it comes to the main event, I love non-traditional holiday dishes like this Turkey Roulade, which does its thing basically unsupervised in the oven while you hang with your guests, or can be made ahead of time and then reheated right before you're ready to sit down at the table. It's a wonderful winter recipe with the warming blend of spices and still feels holiday (it's basically a roast) but shakes up a seasonal menu.